EasySampler – urine and stool collector
The EasySampler series from GP Medical Devices contains two disposable products for easy and convenient stool specimen collection and one disposable product for urine and watery stool collection. The products are all hand-crafted and made of patented special paper. It is easy to install on the toilet seat and ensures easy and hygienic stool or urine collection. After use, flush the easily soluble paper down the toilet.
EasySampler is a Danish invention, and physicians, nurses and patients alike have contributed to the development of the models, which:
are easy to install on the toilet

offer patients an easy, user-friendly and hygienic way of collecting stools or urine

reduce the risk of contamination by water, disinfectants or other sources

ensure the quality of the sample being collected

separate stools from urine and menstrual blood

are biodegradable and can be flushed out after use
Medically approved products
The EasySampler series is designed with patient comfort and safety in mind. For this reason, it is also important to us, at GP Medical Devices, that all EasySampler products meet the requirements for the process of collecting samples from people.
Thus, all EasySampler Kits are medically approved for the collection of stool samples. They are IVD-approved and CE-marked in accordance with the In vitro Diagnostic Medical Device Regulation 2017/746, class A, rule 5 for specimen receptacles.
EasySampler – complete solutions
Stool can contain valuable information about what is wrong in the stomach, intestines or other parts of the gastrointestinal system. Therefore, some patients have to collect stool samples for examination.
Too many patients, taking a stool sample is a predicament, and many find it both difficult and uncomfortable. And things do not get any easier given that patients are often only provided with a sample bag, without any instructions on how to collect the sample.
Therefore, we at GP Medical Devices – in collaboration with physicians and nurses – have developed complete solutions for this, often slightly embarrassing situation.
Eco-friendly, natural and biodegradable paper
The patented special paper is produced in Finland, and the models in the EasySampler series are all certified by Eurofins in France, where they have passed flushing and biodegradability tests. The eco-friendly paper is designed to avoid air pockets in pipes and thus also blocking of drains when the paper is flushed out.
EasySampler is CE-marked according to IVD classification, and EasySampler kit solutions are approved under UN3373 / P650.
Sufficient time for sample collection
Coating on one side of the paper ensures that it can stay in place for 6-8 minutes after contact with stool/urine. This means that you can follow the user-friendly guide and collect the sample at your leisure. On the other hand, flushing the paper down the toilet is fast.
It takes the paper only 60 seconds to begin to dissolve from the moment, you loosen the paper from the edge of the toilet bowl and it meets the toilet water.
EasySampler for stool collection, EU & US versions
EU & US
The EasySampler series includes two models for stool samples:
EU version – for toilets with low water level – IVD-approved and CE-marked
US version – for toilets with high water level – IVD-approved and registered with the FDA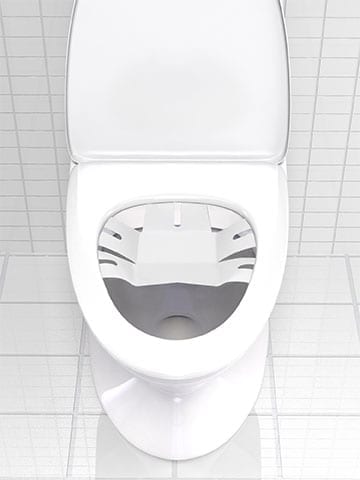 Packages and kits
EasySampler comes in different packages, and detailed instructions are always included. They contain pictograms and supplementary text, showing how the patient should collect the sample step by step. See the instructions here
EasySampler Mini Kit also contains a pair of disposable gloves and two paper spoons for picking up stool. And besides instructions, disposable gloves and paper spoon, EasySampler Complete Kit includes also a sample tube, a mailing tube, a patient information label and a shipping envelope. Read more about the kits here
EasySampler for collecting urine and watery stool
The EasySampler series for urine and watery stool collection is made from the same certified special paper that is used in the stool collection products; however, it is of higher quality. This means that the paper can carry more (up to 400 g stool and 200 ml urine) – and can last longer (more than 6-8 minutes). This way, the patients have plenty of time to follow the instructions and collect the sample.
EasySampler Urine and Stool Collector is IVD-approved, CE-marked and registered with the FDA.
EasySampler
– urine and stool collector
EasySampler
– urine and stool collector
Individual solutions
At GP Medical Devices we also create individual solutions that meet the needs of each individual hospital department. Contact us for more information.